This is not just another online course you'll sign up for and not use!
Training is delivered in a simple, easy to devour format.
Structure and support are included if you want them.
There are no deadlines or assignments.
Go at your own pace and start applying what you learn immediately.
In just six short weeks, you can…
Learn to help your students past mental and emotional blocks without getting a degree or hiring a sports psychologist!

Begin to integrate practical, science-based sports psychology into your teaching program.

Differentiate yourself from other trainers with your ability to identify common mental challenges, help riders solve them and thrive in  your program.

Develop an understanding of the psychology of riding that allows you to support your adult amateurs, juniors and high-performance riders achieve their goals and progress past their own perceived limitations.

Come to view the nerves, anxiety, self-doubt, emotionality, fear, stress, and self-imposed limitations of your students as opportunities rather than barriers. (For real!)

Up-level your own mental game.
Mental Skills Mastery for Trainers
This is a six week, condensed online training course




including audios, easy to read PDFs, and videos
PLUS
6 months of ongoing support and coaching via live Q&A Zoom calls
The course includes:
Training modules delivered to your inbox weekly, for six weeks Listen while you drive, muck or work out! 
Access to an online portal containing audios, videos and PDFs Have access to course materials for six months from the date you purchase the course. Go at your own pace. Revisit the audios and videos over time to deepen your learning as you put the tools into practice.
An exclusive invitation to join the Mental Skills Mastery Private FaceBook Group Get support from a professional performance coach and be part of a crazy cool community.
Personalized support for six months via Case Studies Q&A Zoom Calls! Submit anonymous case studies and get coaching and support specific to your own students and challenges. Calls are recorded in case you cannot be there live. Course includes six months of ongoing participation the FB group and Q&A sessions. 
Go at your own pace There are no deadlines or assignments. Materials are delivered in a simple, easy to devour format with structure and support if you want it.
Purchase the course now to get started right away!
One-time payment of $379.00



The purposes of the course are:
To give you a deeper, more thorough understanding of the mental and emotional challenges of your students.

To provide you with tools and strategies to help them transcend these challenges, increase resilience and progress in their riding.

To support you in the practical application of the tools so that you can maximize your students' skill acquisition, confidence and ability to get joy from their riding!

To equip you with high-performance skills you can apply to your own competitive and training aspirations.

To help you be the best instructor and coach you can be.
The course is for you if:
You're a trainer or instructor in any discipline who wants to feel more confident helping your students overcome fear, self-doubt or anxiety.

You're interested in utilizing sports psychology principles more in your teaching and training.

You're a performance or life coach who works with equestrians and you'd like to expand your knowledge base and your tool kit.

 You want to support your students in getting past self-limiting beliefs, destructive habits and unhealthy patterns that you can see get in their way.

You sometimes feel stuck when your students are dealing with chronic fear or anxiety- nothing seems to help and they're not progressing like you'd like them to.

You teach high-performance riders and want to feel more confident as you guide them in achieving their competitive and training goals.

You want to be able to help your students regain their confidence more quickly after a fall or bad experience.

You're ready to take your teaching to the next level and expand your client base.

As a trainer, you'd like strategies for moving past your own fear, self-doubt or anxiety. You desire more joy from your riding and are ready to achieve your own competitive and training goals.

You've read the books, studied some sports psychology and tried "pushing through" but haven't yet found the key to confidence for yourself or your students. Here's your chance!
Topics include:
Laying the Foundation
Turning Fear to Power, Goal Setting 2.0, Uncovering Your Big Why, Modeling Growth Mindset, Coaching Concepts for Instructors
Mindset Mastery
Growth vs. Survival in Riders, The Inner Coach and The Inner Critic, Leveraging Neuroplasticity, Mastering The Fear Cycle, Teaching Your Students to Use Their Nerves to Fuel Performance
Mindset Tools Series
Mantra Magic, Mental Rehearsal, Power Personas, Imagery, Belief Conversions
Emotional Suppleness
What Not To Do, How Emotions Work, Using the Fear Scale, When to Refer to a Mental Health Pro, Accessing Courage and Building Confidence
The Physiology of Fear
Nervous System Nuts & Bolts, Intercepting Fear in the Body, Breathing Techniques for Riders, How to Help Your Students Increase Their Capacity for Handling Stress and Expand Their Comfort Zones, Rituals for Riding
Practical Application
Working with Teens: Core Values and Becoming Internally Directed, Working with Adult Amateurs: The Four Agreements, Working with High Performance Riders: The Upper Limiting Problem & Breaking Your Own Glass Ceiling, Case Studies and Real Life Application
Purchase the course now
and get started immediately! 
One-time payment of $379.00
(enrollment window discount ends May 31st)
$449 Regular Price
The ROI on this program is hard to put into words. Not only will you maximize the ability of your students to progress with your teaching, but you'll feel empowered to help them get more joy and fulfillment from their riding. You'll also be able to apply the learning from this course to your own life and riding in order to accelerate your success and self-mastery. Priceless, really.
THERE IS NO OTHER PROGRAM LIKE THIS
I've created this program in response to many, many requests from trainers. As an equestrian performance coach, one of my favorite things to do is collaborate with trainers to help their students. As a coach, it is always my goal to make your job, as the instructor, easier. For years, your insights, passion and desire to support your students have been a driving force behind my work. My ability to empower riders to overcome fear, decrease anxiety, win battles with self-doubt, and up-level their performance has relied, in part, on your willingness to refer your clients to me, trust me and work with me.
This course reflects my desire to create a ripple effect in our equestrian sports community- one that, through a deeper understanding of our shared human experience- makes joy, passion, partnership, and peace of mind as well as high performance, more accessible to all riders.  These should continue to be more a part of our equestrian sports culture. In my view, this starts with you- the trainers. We can all feel inspired and able to express our own values, creativity, love for the horses, and individuality through riding and teaching- whether training for fun or competing at the highest levels. Many times, it's destructive mental and emotional habits and old, unhealthy thought patterns that prevent riders from reaching their potential. Let's change that! My hope is that this course will help elevate, not only your personal riding and teaching but will help us, as a community, transcend misconceptions of mental and emotional health. Let's do it!
Mental Skills Mastery for Trainers
in Action
This course is amazing! I've already implemented so many ideas into my teaching and my own riding. I'm going to listen again to every session, because I know I'm just scratching the surface on understanding these ideas.
I taught a tight, strong rider on a big powerful horse the other day. They've had a history of trouble in the canter. I used some of the tools from the module on physiology with her- The softness that came into the horse and the rider was amazing!! And this is a professional who is NOT into fluffy ideas.
I used one of the Mindset Mastery tools with a student in a clinic last week. I have literally never seen her ride in any way like this before. The horse looked incredible and she rode with so much power. Some of the auditors were audibly gasping. It was so much fun! Jen, I can't thank you enough for sharing these concepts with all of us!!
What an AMAZING experience this course has been! Each module was well thought out, and I loved the diversity in the manner of teaching – having audio AND written versions of the material, as well as related PDFs, gave me multiple ways to absorb the information. The videos in each module were fun as well, and I love that you pulled from others' teachings in your quest to best help us learn.
I know two things – the course has already had a profound influence on my thinking, teaching and processing. Secondly, I see myself going back to reread or review the audios again and again, knowing that there will be additional tidbits in the material as I work through things in my own head.
I feel like I have such better tools now, to assess and address mental blocks in myself and in my riders. Using the Fear scale, I've helped several riders come to a calmer place while on their horses, thereby creating better communication between them when they would previously have had breakdowns in communication. I think the tools and concepts in this course help us, as trainers be more aware of ourselves and our own limiting beliefs, which can affect how we interact and interpret our clients' actions and beliefs. They help us be clearer and more objective in our teaching, rather than taking things personally.
I got a lot of insights into myself, which I didn't necessarily expect but was an "added bonus". I have already used some of the tools in my clinics in Hawaii with three different people with significant success. It was terrific! Well done, and thank you so much!!
​Fear can be debilitating for a rider. It is so prevalent in our sport, yet mostly goes ignored- usually because the instructor doesn't have the tools!
For years, I've not had tools to help my students struggling with fear or mental blocks "in the heat of the moment". I've had empathy, but not concrete strategies to help them. Nine months ago I set out to change that. I hired a mentor that specializes in sports psychology, is a dressage rider and has experienced fear on a horse herself.
Jen Verharen has worked with me intensely- teaching me about the physiology of fear and giving me tools to help my riders. I knew very little about this topic prior to working with Jen. I now consider her one of the best in the field – if not the best!
I've been able to implement these tools in lessons over last few months. It's been so fulfilling to watch the riders I teach face their fears, address them, and deactivate them! It's been beyond inspirational to watch these riders evolve and gain confidence- even during one lesson!
Just this weekend a horse and rider combination came in for the first day of a clinic. Both were quite nervous, like deer in headlights. I gave the rider some tools to address her fear and we went to work. As the rider implemented what I taught her, she started to breathe and relax. The horse then started to breathe and relax. By the end of the ride, they were both smiling!
The next day – they came in the ring and I didn't recognize them. Let me tell you- the transformation was astounding! It was so fun to help this pair find trust in each other start to blossom. It was an honor.
I love teaching piaffe- but helping a horse and rider transform like these two did is better than words can describe.
Thanks, Jen, for spending this time training me to help my students in ways I never was able to before. It's been amazing to be a part of these riders' journeys out of the darkness of fear and into the light of pure joy with their horses! I'm so glad you've now put all these tools into a course so that more trainers can be empowered by this knowledge.
THIS COURSE IS AMAZING!!! I love the material. I'm actually printing it up as I go along so I can make notes and remember. I also love that this is audio available! I LOVE it and as luck would have it, already utilized the skills today! THANK YOU.
(Spontaneous message after module one!)
Through working with Jen and taking Mental Skills Mastery for Trainers, I have become better equipped to handle my students' fears and worries. Jen has given me the verbiage and framework to help them compete with increased confidence and tackle new situations that would otherwise intimidate them.
I've even been able to help students remotely in a way I would not have been able to before. I had a student who left me a few years ago and moved to New Zealand. Recently, she called me struggling with her fears and worried that she was not getting supportive coaching from her new instructors. I was able to help her over the phone in a way that hugely impacted her in a positive way. She felt supported and had a plan, despite being half a world away. 
I feel more confident now about how to help my students, not only overcome fear, but also get through hard set-backs and disappointments. I think this is one of the hardest things about being a trainer who cares so much about their students! During the MSMT course, you get concrete, specific ideas for your individual students and their struggles.
This course and Jen's coaching has also given me the ability to set more purposeful goals in my own riding that are clear and ambitious. This has made me a competitor on a mission and inspired more confidence in what I am asking myself and my horse to do. I feel emboldened through my work with Jen!
I appreciate how Mental Skills Mastery for Trainers takes concepts that we may already use or know about and presents them in a whole new light. Understanding why they work and how to best implement them is a game changer. This course has really helped deepen my understanding of sports psychology concepts. Jen's style challenges us to be better educators by connecting with our students through their goals. It is not about our agenda, but helping to make our students better. Jen shows us how to wear all the "different hats"- how to connect with our students on a very personal level that does not have us blurring the lines of the professional student-teacher relationship.
I have so many take-aways from this course. I feel challenged to be better for my students and I feel much more empowered to help them through issues than I did before. Jen, I so appreciate the ideas that you present in MSMT and articulate so well. And I love that you are willing to share your own experience. Thank you!
Working with Jen brought the fun back into my riding and showing. Looking at shows as a method of getting feedback on my training instead of a "measure of my abilities" was a game changer. I am now able to enjoy myself and be a better partner for my horse when we are out at shows and clinics. 
MSMT has helped deepen my knowledge now, as a trainer so that I can apply what I learned through performance coaching with Jen to my students. I've found that as I share my own experience in dealing with fear and self-doubt, my students are more willing to open up and discuss their fear issues. They feel more comfortable letting me know when they are feeling nervous or afraid and now I have the tools to help them get through it!
Now that I understand the psychology and physiology of fear, I am better prepared to help students who may be experiencing low confidence or show nerves.  Instead of ignoring this kind of fear or trying to "push through" it, Jen has taught me exercises to help process and get to the other side of it. As a trainer, having the tools to help my students feel more confident as they learn is invaluable. Thank you so much, Jen!
​I was lucky to be introduced to Jen a few years ago.  I had some things I needed to work thru and Jen was invaluable in helping overcome some of my own mental hurdles!  Since working with Jen, I've recommended her to quite a few of my clients who were having some troubles managing their fear. Working together with Jen and knowing her approach, I found it very useful to support my clients in their quest to improving their riding and conquering their demons!
When I started working with Jen myself, I didn't know what I didn't know.  My riding skills were good, sometimes even inspired.  I have a great mentor for dressage and two amazing coaches for jumping.  What I didn't realize was the missing link of having a great coach for my emotions and my brain.  Jen more than finished the circle for me and at a late age I am riding better than ever!
Having taken Mental Skills Mastery for Trainers, I feel that I impart a greater confidence in my students.  I'm more able to create a bubble of connection between myself and my riders so that they perform at a higher level and my teaching seems to grow with them. It was amazing through much of last year—the covid year- each time I met an emotional obstacle head on with Jen's help, one of my clients would appear facing a similar demon. Because of what I was learning about my own road blocks I suddenly had tools to help my students move into and through what was holding them back.
​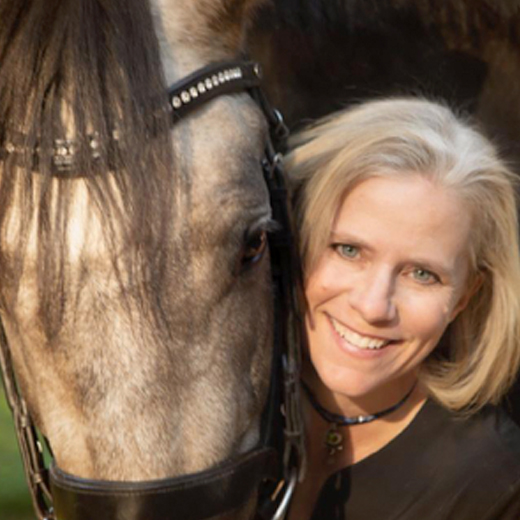 Jen Verharen is a professional performance, business & life coach and the founder and creator of Cadence Coaching. She specializes in helping equestrian athletes and entrepreneurs turn their dreams into goals and their goals into reality.
Jen has 30 years of experience as a coach and trainer and has been a life-long student of the human psyche and spirit as well a rider and horse lover.  She's an experienced facilitator and leads popular coaching programs for riders and business owners as well as health and leadership training programs. Jen coaches youth riders, adult amateurs and internationally competitive riders in mental fitness, emotional suppleness and resilience. Whether a rider's goal is to complete a trail ride, go to their first show, return to riding after time off or compete in the Olympics, she is equally passionate about facilitating success for them on their terms.
Jen is a USDF Certified Instructor/Trainer, USDF "L" judge's program graduate with distinction, USDF silver medalist, and USPC graduate A. She has competed and trained at the upper levels in both dressage and eventing and dabbled in most other disciplines. She has a BA in Organizational Psychology and Mental Health, has done graduate work in clinical psychology, is a certified Health and Wellness Coach, certified Transformational Life Coach, and a trained mediator.
I feel ambivalent about purchasing MSMT. I'm not sure I want to sign up for one more online course that I might not use!
This course is designed to be EASY TO DEVOUR. This means you'll get short, information packed audios delivered daily that you can listen to on your phone while you're driving, mucking or working out. The videos are short and don't require much time to watch. The quizzes are simply created to maximize your learning and give you structure if you desire it. The topics are particular to riding, engaging and full of concepts and ideas that you can't get anywhere else.  This program is designed for horse pros who have crazy busy schedules. You can fit it in!
I'm an amateur rider but interested in performance skills. Is Mental Skills Mastery For Trainers (MSMT) only for professionals?
MSMT is designed for professional coaches, trainers and instructors. If you're a junior, young rider or amateur, please check out The Performance Project!
What if I purchase the course and then get super busy or change my mind?
Well, to start with, virtually everyone who starts a Cadence Coaching program wants to complete the journey. We rarely have anyone drop out or not finish a program.
You'll have access to the course materials for six months from the date of your purchase.
This means that even if your schedule changes suddenly, you can still get the full value of the program whenever you're ready.
What is your refund policy?
This is an independent study program and represents value far beyond the cost. It is also very inexpensive compared with other comparable programs and designed to be easy to utilize. If you absolutely don't like it the first week and decide the format will not work for you, please send an email to support@jenverharen.com requesting a refund BEFORE the first day of week two. Once you have received the first email for Module Two you will  not be eligible for a refund. A tremendous amount of work has gone into producing this course and you will have received access to almost 30% of the curriculum in week two.
I'm having technical trouble registering for MSMT or accessing the portal.
Just shoot an email to support@jenverharen.com and my team will get you sorted!
Does MSMT include any private one-on-one coaching?
No. MSMT is designed to be an independent study course with a supportive community component to it. You can get laser coaching from me in the Facebook group and by submitting anonymous case studies during weeks five and six. This is a TRAINING COURSE which means it's primarily designed to provide information, ideas and teach skills as opposed to a COACHING COURSE which would be designed to take you through a personal or professional growth process via group or individual coaching. You can set up a discovery call with me here if you'd like to find out more about my one-on-one business or performance coaching programs.
How will I get access to the course materials?
As soon as you purchase, you'll receive an email containing a website link and instructions for logging in with the password you chose at signup (which you will save and guard with your life!) Every seven days, a new course module will become available to you in the portal. This means you'll get access to new audio or video recordings and accompanying PDFs each week. Additionally, you'll receive emails every week containing information and inspiration pertinent to each of the training sessions in each module.
When does MSMT start? What if I have a friend who wants to take the course as well.
MSMT is designed to be an evergreen program. This means it starts as soon as you register and pay. It also means that your friend can purchase the course and start at any time. If you'd like to go through the course with a friend or group, just make sure you sign up on the same day so that you'll receive each new module at the same time.