TAKE YOUR RIDING TO THE NEXT LEVEL
Do you struggle with anxiety or self-doubt? Do you have trouble getting into "the zone" when you are riding or competing? Whether you want to move past fear, be free of self-doubt or simply hone your ability to perform your best under pressure, The Performance Project will help you make it happen!
The Performance Project is a six month online program that combines group coaching calls, audio recordings, weekly motivational emails, a step-by-step workbook and an amazing on-line community. It is designed to take your confidence, both in and out of the saddle, to a whole new level- whether you're an amateur, professional or high performance rider.
The Performance Project gives you mental, emotional and psychological performance tools you cannot get from a book or a regular sports psychologist. Get the most out of your passion for riding, excel in your sport and improve your relationship with your horse. No matter your discipline, you will reclaim joy in your riding and improve every aspect of your life!
This next flight of The Performance Project will also be focused on teaching you how to utilize performance skills for emotional, financial and spiritual resilience during the corona virus pandemic. Learn to create certainty inside yourself in the face of uncertainty in the world and make the absolute most out of this time.
THE PERFORMANCE PROJECT INCLUDES:
Weekly Motivational Emails
Audio Recordings Delivered Monthly
Easy-to-Use Training Notebook
Real Time, Live Access to
Your Professional Coach
REGISTRATION CLOSED
Signup below to get on the early notification list
My favorite thing about the Performance Project was the direct input from Jen- it was amazing to see how her involvement and input got the ball rolling for the participants. The group input, positive energy and people lifting each other up was also very powerful. The class material, syllabus, and coaching calls really hit home the strategies and totally changed my frame of mind. The Performance Project helped me zero in on the stepping stones I needed to gain a more positive frame of mind for riding and work through my negativity when it wants to take over. I have had some traumatic events riding in the past and had begun to doubt my capabilities. In an amazingly short time, with the help of The Performance Project, I have seen great improvement in my riding with my challenging and sensitive off the track thoroughbred.
I started off thinking this Project would just help with my riding but quickly realized how it touches all areas of my life. As I've gotten older, I have slowly sunk into the dredges of anxiety and self-doubt. I really needed this! For riding, I feel focused and optimistic, and have proof already that the tools do help. I am building the "right kind of mental muscle" and achieved my lifelong goal of competing at second level this season! I really enjoy Jen's audios and listen to them over and over on my phone as I go about my barn chores. I pick up something new every time! The Performance Project has also helped me improve my ability to manage the pre-lesson/clinic anxiety that used to take away the fun. So glad I did this!
Thank you, Jen for putting this program together! It was very helpful and emboldening for me to participate in The Performance Project. Having a homebred, who is now almost four years old has been extremely challenging and rewarding for me. I so appreciate your wisdom as a rider and teacher. I truly believe we benefit immensely by bringing good mental habits to our horses and The Performance Project is a fantastic way to learn how to do this really effectively. I am already pretty goal oriented and The Performance Project helped me to clarify specific strategies achieve them. Onward we go with great expectations!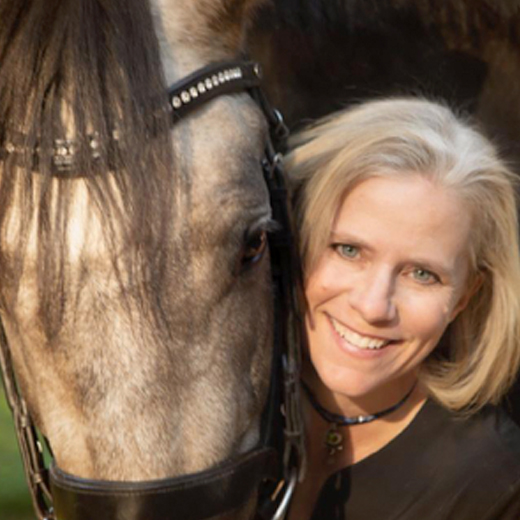 Jen Verharen
Jen Verharen is a professional performance & business coach.
She is the founder and creator of Cadence Coaching and specializes in helping equestrian athletes and entrepreneurs turn their dreams into goals and their goals into reality.
Jen has 25 years of experience as a coach and trainer and has been a life-long student of the human psyche and spirit as well a rider and horse lover. She's an experienced facilitator and has led successful coaching programs for business owners as well as health and leadership training programs. Jen believes that high performance is the result of intentional action, mental toughness, healthy routines and the ability to not only manage but also capitalize on emotions. Leverage your fear, shift your thinking and learn powerful tools for getting into "the zone" so that you can perform optimally in all areas of your life!
Jen is a USDF Certified Instructor/Trainer, USDF "L" judge's program graduate with distinction, USDF silver medalist, and USPC graduate A. She has competed and trained at the upper levels in both dressage and eventing and dabbled in most other disciplines. She has a BA in Organizational Psychology and Mental Health, is a certified Health and Wellness Coach, certified Transformational Life Coach and a trained mediator.