On the other side of fear is…
Everything.
​
Transcend fear and self-doubt.
Get into "the zone" when you want to.
Become mentally tough.
Gain emotional suppleness.
Put the joy back into your riding.
Ditch perfectionism & embrace excellence!
In training. In competition. In life. 
The Performance Project is a six week course that includes six months of professional performance coaching and support.
It includes…
Easy-to-consume audio recordings delivered weekly for six weeks- Listen while you drive muck or work out.
Six months of group coaching calls- Most participants say this is their favorite part!
Scripts & worksheets- Customize the material to your personal challenges and goals. This is where the transformation lives!
Membership in the TPP Private Facebook Group- Get support from a crazy-cool community of riders who share you challenges and passions.
Accountability emails a few times per week- Stay on track and inspired!
There is no other mental skills or sport psych program like this. I am a rider, professional instructor and performance coach who has been where you are. I have now successfully taught thousands of riders to build courage and confidence out of self-doubt and fear. I designed this course several years ago when my one-on-one coaching practice became so overbooked that I could not keep up. The Performance Project is designed to give you the experience of working with a professional performance coach at a tiny fraction of the cost and on your own time. A lot of people who come to me have tried everything- they've read the books, worked with sports psychologists, tried to "push through' their fear, said all the affirmations and even some have even tried pre-ride cocktails!
You do not need twenty years of therapy- only a basic understanding of the science, help accessing courage and some simple, easy to apply strategies. The Performance Project is my way of having your back!
This is not just another course you'll sign up for and not do. It's an EXPERIENCE that you won't be able to resist- most people say they start getting results after the first session. Taking The Performance Project is like having a personal trainer for your life- you'll learn the basic science behind what it takes to be mentally, emotionally and physically in charge of your own thoughts and emotions so that you can ride to your full potential and be who you want to be for your horse.
This is a go-at-your-own-pace course. There are no assignments and you have access to all materials and coaching calls for six months or more if you choose. You'll have the opportunity to be a part of an inspirational community of riders who share your passions and challenges.
You have one wild and precious life and this program is all about helping you make the most of it!
REGISTRATION CLOSED
Signup below to get on the early notification list
The Performance Project in Action
I found The Performance Project when I was really struggling to overcome a past traumatic experience. I had had a very bad fall that left me hospitalized with a collapsed lung. Even with a new horse, I could not get over my fear.  
The Performance Project has taught me to face my fears strategically. I now have an understanding of how to get through them. I retrained my brain with concrete tools that my instructor loved. She really bought into the program and we worked it together. I was able to work through the fears left over from my fall and get joy in my riding I hadn't even realized was gone!
Once I was able to get through that fear, I accomplished a goal I never thought I would even have the courage to set. Thunder and I won a Freestyle Championship that brought me even more joy than I could have imagined.
This doesn't mean everything went perfectly though. In TPP, I learned how to handle things with grace when they didn't go well. I handled some pretty scary experiences that would have benched me before.
I've taken The Performance Project several times now. Learning to work through my fear in the saddle has also helped me begin to honor your own self-worth. I recently made the tough but great decision to move barns and have lost over 100 pounds on what has been an incredible health journey. I really cannot thank Jen enough and cannot recommend The Performance Project highly enough!
When I started The Performance Project, I knew exactly how to get performance out of myself but I was tired of my self-imposed pressure and I wasn't having much fun. I had a constant "go, go, go, do more, be better" voice in my head that had served me well but was now getting in my way. I was burnt out on life and I didn't even know it.
Through participation in The Performance Project, I developed a whole new mindset. "Presence Every Day" became my mantra. I lost that task-master inner voice and shifted my focus to what really matters to me- having fun, learning, and getting better. As a result, not only have I been having more fun, but I have already accomplished two of my major goals this year: I won my first event of the season and I wrote my first book!
I recently made a mistake at a show that resulted in my elimination. Previously, I would have really beat myself up about it. Instead, I was immediately able to laugh about it and learn from it. One mishap no longer has the power to derail me. As a result, I'm more present, see the big picture, and I recover from setbacks much more quickly.
If you want to use The Performance Project to simply address issues in your riding, you can, and it will work!  But I believe 100% that your riding mirrors your life – If you're afraid to canter on your horse, where else in your life are you afraid to canter? I can personally say that the rewards are exponential if you're willing to apply the course to your whole life- beyond the saddle! I signed up for The Performance Project because I wanted motivation to start my next business and help getting back into competition again with my horse. What I got was something even better: I am finally living my authentic, intentional life.
I first connected with Jen and signed up for The Performance Project because I wanted to find a way to quiet the questioning voices of uncertainty in my head and gain some clarity about how to accomplish my goals. My goals at that time were quite focused. Number one was to find a clear path to second level dressage by the next show season. Number two was to compete at beginner novice at a three day event and enjoy it without fear ruining the experience. I was putting tons of pressure on myself to perform well and it was really getting in the way of my riding progress.
When I started TPP, it became clear to me right away that I was very focused on the outcome instead of the process. In TPP, Jen explains that there are two cycles we can get into as riders- the fear cycle and the power cycle. The fear cycle being a habitual way of responding to stress that keeps you nervous and tense and the power cycle being an on-purpose way of handling stress that allows you to actually use stressful situations to get into the zone and perform better. She gave specific tools for transitioning from the fear cycle to the power cycle. This had such an impact on me! I realized how much my own thoughts were creating my anxiety and pressure. I was able to use the TPP tools to become much more focused and actually joyful while I was training and competing!
One of the things I did was come up with a mantra. I had done this before but never very successfully. Although I'd had a mantra in the past, they were just words and did not elicit any feeling or emotion so, therefore, didn't really work. I didn't understand back then how a mantra actually works. My mantra was "Just for the joy of it!" (Like in the Diet Coke jingle.) So that was it- the happiness, lightheartedness, sense of accomplishment and rush that I had knew I wanted to feel when riding and competing were captured in that simple phrase. I could actually feel it in my chest! Literally, a feeling of lightness and openness.
So, how did all of this play out? Pretty much as I'd set out in my goals- along with two blue ribbons that were just icing on the cake. I moved up to second level and actually won a couple of events WHILE HAVING FUN! The real win though, was the self-confidence and joy in our performances.
Since my participation in TPP, I remain committed to working towards my current goals, one ride at a time, with focus, presence, gratitude and "just for the joy of it!"
The performance Project has changed the way I think, ride and look at life. When I first started the course, I knew I had competitive goals in my riding but I had a lot of self-doubt. I used to let the "Itty Bitty Shitty Committee" in my head determine how I felt. Now- it's not that I don't have self-doubt anymore, it's just that I now know what to do with it. I look through a different lens. I have clarity about what I want and what is important to me.
This gives me courage! When I first started The Performance Project, I set a goal of competing in the national dressage championships in Kentucky. This was so HUGE for me. What I learned in TPP, gave me the tools and the courage to not only set that goal but accomplish it.
Much more importantly, though, TPP gave me the will to engage in my own destiny. As I was preparing for Kentucky, I was diagnosed with breast cancer. I knew from my work with Jen that my BIG WHY was to live a regret free life. I made a decision to still pursue my goal even as I was going through treatment. In the past, I would have let worry, the opinions of others and the fluff in my mind take over. Not anymore. That decision changed the trajectory of my life. I've now had the courage to beat cancer, start my own business, and totally change some important relationships. I am now willing to experiment and take chances. I know how to turn pressure into motivation. I feel content in my life even as I continue to work toward new goals.
There are a lot of programs out there right now that offer motivation and information. I don't usually stick with them, though. The Performance Project has so much substance- it covers so many areas in a way that is engaging and easy to stick with. This course has truly transformed the way I ride and the way I live. I've taken it several times now and each time I get more out of it!
I have had some traumatic events riding in the past and I'd begun to doubt my capabilities. In an amazingly short time, with the help of The Performance Project, I have seen great improvement in my riding. I have a challenging and sensitive off the track thoroughbred and I can't believe how much my changing my mindset has impacted his confidence.
My favorite thing about The Performance Project was the direct input from Jen on the Q&A coaching calls- it was amazing to see how her involvement and input got the ball rolling for the participants. The group input, positive energy and people lifting each other up was also very powerful. The course material, syllabus, and coaching calls really hit home the strategies and totally changed my frame of mind. The Performance Project helped me zero in on the stepping stones I needed to take in order to gain a more positive frame of mind for riding. I now confidently work through negativity when it wants to take over!
I started off thinking that The Performance Project course would just help with my riding but quickly realized that it was touching all areas of my life. As I've gotten older, I have slowly sunk into the dredges of anxiety and self-doubt. I don't even really know why but I just haven't felt as confident, as a rider, as I used to. I really needed this course!
In my riding, I feel focused and optimistic now. I have proof, already, that the tools work. I finally achieved my lifelong goal of competing at second level this season! I was beginning to wonder if I would ever be able to move up. I'm working on building my "mental muscle" every day. I really enjoy Jen's audios and listen to them over and over on my phone as I go about my barn chores. I pick up something new every time I listen!
The Performance Project has also helped me improve my ability to manage the pre-lesson/clinic anxiety that used to take away my fun. I'm so glad I did this course!
Thank you, Jen for putting this program together! It was very helpful and emboldening for me to participate in The Performance Project. Having a homebred, who is now almost four years old has been extremely challenging and rewarding for me. I so appreciate your wisdom as a rider and teacher. I truly believe we benefit immensely by bringing good mental habits to our horses and The Performance Project is a fantastic way to learn how to do this really effectively. I am already pretty goal oriented and The Performance Project helped me to clarify specific strategies achieve them. Onward we go with great expectations!
I am so happy I participated in The Performance Project I'm connected now to an amazing new community of horse people, all of whom are working through their own struggles while being each other's cheerleaders. This course provides a foundation for success, which you can continue to build upon over time. The concepts and tools are applicable to any aspect of life – riding, work, relationships… you name it! Thank you, Jen, for creating this and putting so much into it. Your work benefits so many people and is making the world a better place!
I now have a set of tools I can use to help me work through just about any situation. Specifically, I have a better strategy for improving my dressage tests. It includes more mental rehearsal ahead of time and actively changing the way I think in the warmup. It's going to take time and more training for my mare to become more relaxed and rideable in the ring, but I now have the focus to help her get there.
The strategies for goal setting, committing to core habits, developing emotional resilience, and accessing courage are all so applicable to riding and competing. But they're also applicable to life in general! These concepts have already helped me gain perspective and make important choices for myself that will help me continue to move forward in positive ways.
Ode to Jen and The Performance Project: Four months ago, my lessons focused on how to maintain a canter down the long side without pulling up out of fear or failure.  Today, my lesson was canter half-pass zig-zags and changes – all ridden with a huge smile and an overwhelming feeling of pride.  I have not felt proud of my riding in months. Thank you for helping me rediscover my why and reclaim my passion. I am a better, stronger, and happier person because of your guidance. It has been hard work and it's been messy- but today I am reveling in the mess, because it is the joyful mess of a happy heart.
I was a doubter that this course would help me. I'd made so many attempts at change in the past, and nothing really stuck. The Performance Project takes some work, thought and inspiration but Jen is there to get you going and guide you along the way. This course has helped me be so much more aware. It really got me thinking about the future and being intentional instead of just going along.
The format of the course along with the recordings have been very helpful. And having access to them for six months is allowing me to review and revisit all the material. All you need is a tiny spark to get that flame lit and burning. After that, tending to the fire helps it grow. Thank you, Jen!
At the beginning of The Performance Project, several people who'd done it before said it was life changing for them. I chuckled then but now I get it. If you do the work and commit to the course it really is! I so wish I had found The Performance Project years ago. It has changed how I approach my rides but also how I approach projects at work. I love how positive this program is and that it's specifically directed to riders. I paid for several private sessions with a sports coach several years ago and she kept comparing horses to bicycles- THIS IS SO MUCH BETTER! I am much more positive when riding my new horse and I no longer let my fear take me away.
I so admire and appreciate your style and effectiveness as a leader, instructor and coach, Jen. It was a great experience going through The Performance Project and then getting to meet you in person and have a riding lesson with you! You are such an asset to our PNW equestrian community and beyond. I ended my season accomplishing a goal that I thought was impossible at the beginning of the year- not only completing, but winning my division at the Spokane Horse Trials.
The most important things I've gained, though, are having frequent and longer periods of confident, relaxed rides in public, more motivation to practice, a positive attitude change, self-forgiveness and patience, and a coaching model to help my SLP grad students. Thank you for sharing your wonderful skills, time and for just being you!
Due to the emotional and physical fallout from a scary fall, I was really struggling with my confidence as a horsewoman, rider, and my overall self-image. During my participation in The Performance Project, I came to understand the negative thoughts I was having about myself (old, floppy, incapable, weak, fragile, undeserving) were not really me and these thoughts were contributing to the anxiety I was feeling surrounding jumping with my new partner. Around week two of the program, I decided I was no longer going to refer to myself negatively, I would own my age, and I developed a set of positive thoughts about my ability to ride (balanced, soft, confident, capable, strong, worthy).
At week three, I signed an eighteen-month contract with a local Burn Bootcamp franchise for 5:45 AM workouts five days a week with a friend from the barn making me both financially and socially accountable for my strong desire to be physically fit. At week four, my mare and I participated in an eventing camp where my new found strength and confidence, gained from participating in The Performance Project, produced some of the most joyful stadium (and somewhat less terrifying XC) jumping I have had in more than two years!
I signed up for this program because I thought it would help me overcome the increasing anxiety bordering on fear that I was experiencing when jumping or thinking about jumping. By the end of it, I have come to realize that I am in charge of how I think of me, how I refer to me, and how I project me. I treat myself how I treat my horse.
I loved participating in the Performance Project! I highly recommend this program. The success tools you gain are applicable in any aspect of your life. This program helps you see things more clearly and attain your goals. I really enjoyed the group and seeing that we all are going through similar things. The group support along with Jen's coaching is very inspiring. I now have an understanding of what's really holding me back and how to achieve my goals. Thank you, Jen, for this wonderful opportunity!
The Performance Project was life changing! I was somewhat skeptical but several trusted coaches recommended it to me. I was at a very low point in my equestrian life so I figured it couldn't hurt to give it a try. I can't believe the amount of information provided in such a short period of time – I'm sure I will still be processing and accessing it for quite a while! The information was practical so I could immediately try techniques and ideas and, better yet, immediately see results. My horse and I have already significantly improved our dressage show performance and made huge strides in overcoming significant fear in the jumping phases.
I am so impressed with how the seemingly small changes Jen recommends (which seem less intimidating than huge changes I imagined I would need to do) can have such significant, positive impact on performance. I'm pretty sure every equestrian could benefit from this program!
I experienced huge improvement in my performance at dressage shows due to my newfound ability to perform as well in the ring as I do in the warm up! I have also overcome significant fear in the stadium ring (my horse and I are almost back to our pre-confidence-loss feeling) and I believe I have the tools to overcome significant fear on the cross-country course as well. I am having fun competing and going to clinics again!
The Performance Project gave me better understanding of the power of sports psychology. It helped me end the season by achieving my goal of competing in the Developing Horse Championships at Lamplight. I had one of the best competitions of my life and enjoyed every minute of it! Over time, as I absorb and study the information from The Performance Project even more, I expect to keep getting better. By next winter's Global Dressage Festival, I plan to compete again, with calm and focus no matter what the circumstances are!
I began working with Jen in 2015.  During that time I have participated in at least five of her courses, the most recent being, The Performance Project.  I think this is an indication of how much I believe in her process!  Over the years, I've created a personal vision for myself…twice… as well as set goals and strategies for both my riding and my life. I've experienced the power of believing in and accomplishing those goals. 
My riding has transformed. When I rode in a clinic last weekend, the clinician could not believe the difference in my confidence. It shows up in the way I carry myself and how I feel while I'm riding. It's like both my horse and I are lifted up.
I could not have achieved what I have without Jen's insight and skill as a coach and guide. She helped me see the only person getting in my way was me.  And even when I could not always see the way, I believed in myself and trusted the end result would be what it is meant to be! I can say without reservation, Jen's system works, and it works fast because, with her encouragement, I was willing to do the work and take the action, even though it was challenging at times.  Participating in The Performance Project has been a gift I gave myself.  And, in turn, Jen has given me the gift of believing in the power of me. Thank you Jen!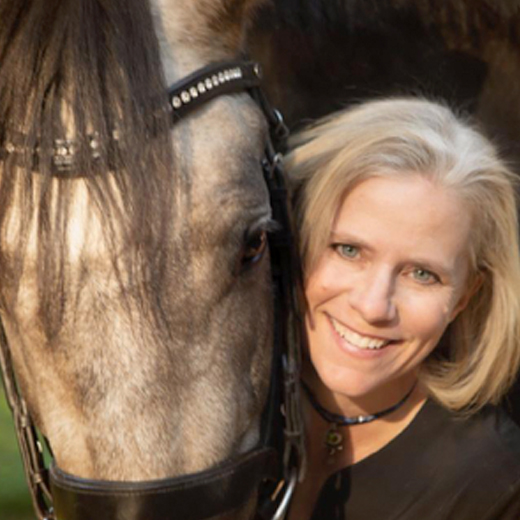 About Your Coach
Jen Verharen is a professional performance, business & life coach and the founder and creator of Cadence Coaching. She specializes in helping equestrian athletes and entrepreneurs turn their dreams into goals and their goals into reality.  
Jen has 30 years of experience as a coach and trainer and has been a life-long student of the human psyche and spirit as well a rider and horse lover.  She's an experienced facilitator and leads popular coaching programs for riders and business owners as well as health and leadership training programs. Jen coaches youth riders, adult amateurs and internationally competitive riders in mental fitness, emotional suppleness and resilience. Whether a rider's goal is to complete a trail ride, go to their first show, return to riding after time off or compete in the Olympics, she is equally passionate about facilitating success for them on their terms.
Jen is a USDF Certified Instructor/Trainer, USDF "L" judge's program graduate with distinction, USDF silver medalist, and USPC graduate A. She has competed and trained at the upper levels in both dressage and eventing and dabbled in most other disciplines. She has a BA in Organizational Psychology and Mental Health, has done graduate work in clinical psychology, is a certified Health and Wellness Coach, certified Transformational Life Coach and a trained mediator. Jen has been a keynote speaker for The United States Dressage Foundation conventions, The American Riding Instructors Association regional and national conventions, The United States Eventing Association Area VII Annual Meetings, a Region V Arabian Horse Association Symposium, and The United States Pony Clubs national and regional meetings.
I feel ambivalent about purchasing TPP. I'm not sure I want to sign up for one more online course that I might not use!
This course is designed to be EASY TO DEVOUR. This means you'll get short, information packed audios delivered weekly that you can listen to on your phone while you're driving, mucking or working out. The videos are short and don't require much time to watch. The quizzes are simply created to maximize your learning and give you structure if you desire it. The topics are particular to riding, engaging and full of concepts and ideas that you can't get anywhere else.  This program is designed for horse people who have crazy busy schedules. You can fit it in!
I'm am a professional rider but interested in performance skills. Is The Performance Project (TPP) only for amateur riders?
TPP is designed for riders of ALL disciplines and levels. If you are a professional, however, and are interested in learning how to teach performance skills to your students and coach them past their mental and emotional blocks, check out Mental Skills Mastery for Trainers here.
What if I purchase the course and then get super busy or change my mind?
Well, to start with, virtually everyone who starts a Cadence Coaching program wants to complete the journey. We rarely have anyone drop out or not finish a program.
You'll have access to the course materials for six months. This means that even if your schedule changes suddenly, you can still get the full value of the program whenever you're ready.
Refund Policy: There are not refunds.
This is an independent study program and represents value far beyond the cost. It is also very inexpensive compared with other comparable programs and designed to be easy to utilize. We try to provide you with enough information and participant stories ahead of time to help you make a decision about whether TPP will be for you. Coaching programs can be challenging and uncomfortable. Our no refund policy is designed to support participants in moving forward, rather than bailing when things get hard! That said, If you find that TPP is really not for you, send an email to support@jenverharen.com and we will remove you from the course and donate the amount of your investment to a charity of your choice!
I'm having technical trouble registering for TPP or accessing the portal.
Does TPP include any private one-on-one coaching?
No. TPP is designed to be an independent study course with a supportive community component to it. You can get laser coaching from me in the Facebook group and by participating in the group Q&A Coaching calls. You can set up a discovery call with me here if you'd like to find out more about my one-on-one performance coaching programs.
How will I get access to the course materials?
As soon as you purchase, you'll receive an email containing a website link and instructions for setting up a password (which you will save and guard with your life!) Every seven days, a new course module will become available to you in the portal. This means you'll get access to five new audio or video recordings and accompanying PDFs each week. Additionally, you'll receive emails every week containing information and inspiration pertinent to each of the four or five training sessions in each module.
When does TPP start? What if I have a friend who wants to take the course as well.
TPP is designed to be an evergreen program. This means it starts as soon as you register and pay. It also means that your friend can purchase the course and start at any time. If you'd like to go through the course with a friend or group, just make sure you sign up on the same day so that you'll receive each new module at the same time.