Coaching Offerings
People who are successful, joyful, and creative know that it is only through an exploration of the inner world that the outward experience of success can be fully expressed and enjoyed. I believe that it's a mighty meeting of the energetic and the practical that make dreams become real. The longer I partner with people to achieve whatever it is they most desire, the more powerful this belief becomes. What do you want in your life? Financial freedom? More time for what's most important to you? To accomplish a big goal? A streamlined business that works for you instead of the other way around? To tackle a project that's been eluding you? Vibrant health and energy? To start a business or make a career change? Simplicity? Peace of mind? A low stress life? You have one wild and precious life- it's time to make the most of it!
About Jen
Testimonials
Jen has been AWESOME for my business! I employ all age groups and she brings a clear energy that earns the respect and trust from all of my team. Her clear communication skills, honesty and trusting personality is visible in every session. I have worked with many coaches over the years, and she makes the process of "redirecting the ship" feel exciting and in alignment for everyone along the way! Jen possess a clear love for business and always expresses true enthusiasm towards mine. I highly recommend her to any business!

Bobbie Bailey, President of M Agency

Working with Jen over the past three years has been instrumental in both my personal and professional success. Her keen eye and clear feedback has been invaluable in my professional role as a project manager for a multinational tech company. She has assisted me in evolving my career and navigating some very challenging circumstances. I cannot recommend her highly enough.

Courtney Secor, Senior Associate at Revel Consulting

Jen helped me come up with a plan for success in meeting both my competition goals and my business goals. She helped me to move past some mental obstacles and was able to improve my dressage scores by several percentage points. She also helped me find ways to work through some of my physical limitations. I feel better organized on my path to reach my goals. Coaching with Jen has inspired me to push myself a lot harder than I ever have before!

Kate McAulliffe, Dressage Trainer & Business Owner

I've said it before and I'll say it again: Jen is my secret weapon. If you are looking for a way to get out of a rut, move forward with personal and/or professional goals, and most importantly, get out of your own way, she is gold. This program was, for me, more beneficial than therapy and a lot more fun! Jen throws herself into her work and really cares about her clients. Thanks, Jen!

Kristine Dahms, Graphic Designer & Dressage Rider

I'm thrilled with the help that Jen has given to my students. Her coaching, insight and talent has led to huge breakthroughs for them. She's helped them get clear on their goals, shift their ways of thinking, and develop strategies for improving their riding. I regularly send my students to Jen for coaching because she's incredibly insightful, helps them clarify what they want from their riding and makes my job easier!

Alyssa Pitts, Grand Prix Level Dressage Rider, Trainer & Competitor

Jen has the extraordinary ability to take a snapshot of a person's potential--not who you are today but who you see yourself becoming. Jen can help people identify their mission, goals, objectives-and then she takes you on a step-by-step path to get where you want to go. Whether it is in the equine world (where tons of this kind of coaching is needed!) or in the business world, Jen knows how to help people make things happen. She is simply the best in the business at what she does!

Jeanne McKnight, President McKnight & Company, LLC & Dressage Rider

Working with Jen has transformed the way I think of myself and given me the courage to take risks I could never bring myself to take before. Jen possesses wisdom beyond her years and I am grateful for her strength, clarity, patience and support. Setting and achieving my equestrian goals has given me the confidence to achieve goals in other areas of my life. I had always wanted to turn my passion for equine massage into a financially viable business but was afraid to put that out there and give it a go. After years of thinking about it, planning it and putting it off, thanks to this program, I finally did it!

Donna Baxter, Event Rider & Owner of Kneaded Touch Equine Massage, Vashon, WA

My business is less chaotic and works so well since I began working with Jen- I have way more peace of mind and time to spend with my family. I can honestly say this has been the best ever investment for my business and personal goals. As a professional horse trainer, I cannot recommend this program highly enough to other professionals as well as riders of all levels and disciplines.

Delicia Molten Sorensen, FEI level dressage trainer, business owner & Mom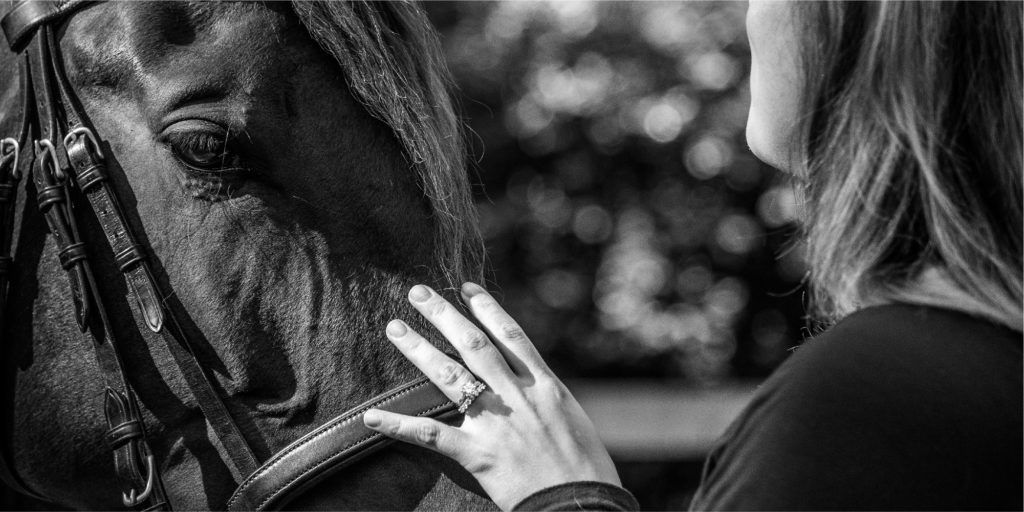 TRANSCEND FEAR AND SELF-DOUBT. GET INTO THE "ZONE" WHEN YOU WANT TO. BE MENTALLY TOUGH & EMOTIONALLY RESILIENT. PUT THE JOY BACK INTO YOUR RIDING. FOR FUN. FOR COMPETITION. FOR LIFE. Get the direction, support and guidance you need to "retrain your brain" and get out of your own way. Whether you want to get past fear, be free of nagging self-doubt or simply hone your ability to perform your best under pressure, you're in the right place! The Performance Project is a four-week high octane program that combines group coaching calls, online recordings and video, a step-by- step workbook and a kick ass community to deliver an EXPERIENCE in taking your confidence to a whole new level from wherever you're at right now. Put nerves, anxiety, fear, perfectionism, comparisonitis, self-doubt or whatever gets in your way, aside, and learn to perform with confidence in training, competition and in your life. You have one wild and precious life and this program is all about helping you make the most of it!
The Performance Project