​For TPP Graduates Only
Close the gap between
what you are capable of
and who you are.
The Performance Project 2.0 will be a more intimate, more in-depth experience that you will customize to your own life and dreams. It will be less "homework" intense but more driven by your own riding goals, life projects, needs and challenges. It will be a year-long program. You'll get coaching from me via quarterly zoom "retreats", support in a smaller FB group, customized accountability from your partner or small group, and full time, year-long access to all TPP recordings and materials.
Develop your 2021 life design and execute it in quarterly chunks! Utilize and deepen your understanding of all the stuff we talk about in TPP with laser focus on what you desire for 2021. As you know, in TPP we are not just about riding better- though that is front and center- we are also about living better! As we all learned in 2020, the more intentional, creative, and connected you are in your riding and in your life, the more joy you will experience, the more resilient you will be and the more you will have to give to the world. We have no idea what will happen in 2021 but… BRING IT ON!
THE PERFORMANCE PROJECT 2.0 INCLUDES:
Five 2 hour "online retreats" via Zoom
(See below for dates)
A private FB group for support
and laser coaching
Full time, year-long access
to all TPP materials
Weekly post prompts to
keep you on track
A new TPP Life Design Template
for use throughout the year
Three "TPP Book Club" book recommendations we will be reading and discussing during the year
An accountability partner or small group
with whom you do your work
(You can sign up with a partner of your choice or you will be assigned to the perfect partner or small group.)
12 monthly payments
of $79
(This is a small fraction of what one-on-one coaching costs and what coaches in other industries charge!)
These prices are good only until January 15th.
*****Space is limited*****
Once you sign up, you'll receive instructions for how to prepare for our Quarter One Session.
During registration, you will have an opportunity to make an accountability partner request. Your partner must register as well. You will be assigned to the perfect accountability dyad, triad or quad if you do not make a request!
YES! All retreats will be recorded in case you have an emergency and cannot attend but full attendance is recommended.
If you have a friend who would like to do the program with you, and they have not yet completed TPP, they may apply with me via email and will be accepted only if they demonstrate compatibility and there is still space after January 15th.
Program Outline:
QUARTER ONE- Zoom Retreat on January 28th 6-8 pm Pacific Time
Life Design: Create your own "Life worth living" plan. Develop your personal vision for 2021, set goals and outline your projects for quarter one. Identify your areas of focus and get to know your partner or small group.
QUARTER TWO- Zoom Retreat on April 1st 6-8 pm Pacific Time
Personal Mission: Taking a stand for what matters to you, getting past stuck areas, finding clarity through core values. Complete quarter one goals and projects and make a plan for quarter two.
QUARTER THREE- Zoom Retreat on July 8th 6-8 pm Pacific Time
Vows, commitments & promises: Keeping agreements with yourself. In what areas of your life are you thriving and in what areas are you still surviving? Daily practices and habits that make you whole. Complete quarter two goals and projects and make a plan for quarter three.
QUARTER FOUR- Zoom Retreat on September 30th 6-8 pm Pacific Time
Integration: Passion, productivity & presence! What are your non- negotiables? For what do you stand for? Complete quarter three goals and projects and make a plan for quarter four.
COMPLETION- Zoom Retreat on December 16th 6-8 pm Pacific Time
Completion & Celebration: Dive into what you've learned. Celebrate your wins and your relationships. Make change sustainable and get the absolute most out of your year. Begin to vision for what is next.
Please feel free to email me personally with questions that have not been answered on this page: jen@jenverharen.com
My favorite thing about the Performance Project was the direct input from Jen- it was amazing to see how her involvement and input got the ball rolling for the participants. The group input, positive energy and people lifting each other up was also very powerful. The class material, syllabus, and coaching calls really hit home the strategies and totally changed my frame of mind. The Performance Project helped me zero in on the stepping stones I needed to gain a more positive frame of mind for riding and work through my negativity when it wants to take over. I have had some traumatic events riding in the past and had begun to doubt my capabilities. In an amazingly short time, with the help of The Performance Project, I have seen great improvement in my riding with my challenging and sensitive off the track thoroughbred.
I started off thinking this Project would just help with my riding but quickly realized how it touches all areas of my life. As I've gotten older, I have slowly sunk into the dredges of anxiety and self-doubt. I really needed this! For riding, I feel focused and optimistic, and have proof already that the tools do help. I am building the "right kind of mental muscle" and achieved my lifelong goal of competing at second level this season! I really enjoy Jen's audios and listen to them over and over on my phone as I go about my barn chores. I pick up something new every time! The Performance Project has also helped me improve my ability to manage the pre-lesson/clinic anxiety that used to take away the fun. So glad I did this!
Thank you, Jen for putting this program together! It was very helpful and emboldening for me to participate in The Performance Project. Having a homebred, who is now almost four years old has been extremely challenging and rewarding for me. I so appreciate your wisdom as a rider and teacher. I truly believe we benefit immensely by bringing good mental habits to our horses and The Performance Project is a fantastic way to learn how to do this really effectively. I am already pretty goal oriented and The Performance Project helped me to clarify specific strategies achieve them. Onward we go with great expectations!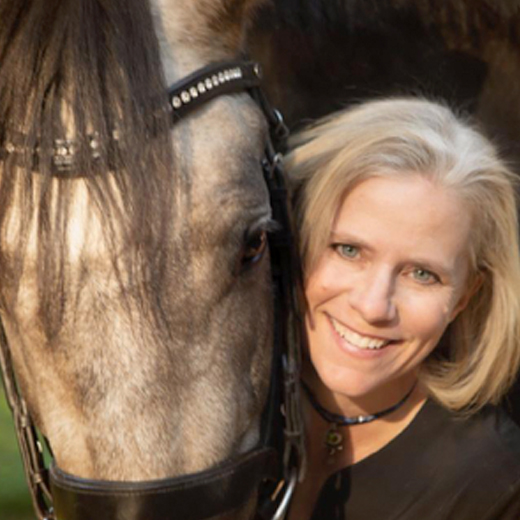 Jen Verharen
Jen Verharen is a professional performance & business coach.
She is the founder and creator of Cadence Coaching and specializes in helping equestrian athletes and entrepreneurs turn their dreams into goals and their goals into reality.
Jen has 25 years of experience as a coach and trainer and has been a life-long student of the human psyche and spirit as well a rider and horse lover. She's an experienced facilitator and has led successful coaching programs for business owners as well as health and leadership training programs. Jen believes that high performance is the result of intentional action, mental toughness, healthy routines and the ability to not only manage but also capitalize on emotions. Leverage your fear, shift your thinking and learn powerful tools for getting into "the zone" so that you can perform optimally in all areas of your life!
Jen is a USDF Certified Instructor/Trainer, USDF "L" judge's program graduate with distinction, USDF silver medalist, and USPC graduate A. She has competed and trained at the upper levels in both dressage and eventing and dabbled in most other disciplines. She has a BA in Organizational Psychology and Mental Health, is a certified Health and Wellness Coach, certified Transformational Life Coach and a trained mediator.